Medium-Current Ion Implanter

PRODUCTS

Product Information
ITEM INFO
The state-of-the-art, high-performance MC3-II medium-current ion implanter that pursues the highest level of implantation quality in the world
Now that mass production with device production lines that support the micro fabrication process for 300-mm wafers and 14-16-nm nodes has started, cutting-edge manufacturers have started selecting semiconductor device manufacturing systems, including those with nodes below 10 nm.
The characteristics of fine MOSFETs are extremely sensitive to the distribution of impurities in the channel, drain, and so on. As such, it is also vital in ion implantation to control many parameters, such as energy, dose, and implantation angle, with high accuracy. While the need to implant heavy ions (In, Sb) has been increasing for precisely forming steep halo and retrograde well, minimizing metal contamination for image sensor applications is also required.
In order to meet such requirements, SMIT provides the MC3 series of easy-to-use, high-reliability medium-current ion implanters that enable a wide range of parameters to be controlled with high accuracy. The MC3 series ensures excellent beam homogeneity in the beam scanning direction (horizontal direction) and high-accuracy beam parallelism thanks to the parallel optical system with bilateral symmetry.
With the wafer scanning mechanism inherited from the previous model that maintains a certain point as the intersection of the beam axis with the wafer surface, the MC3 series achieves high-accuracy implantation uniformity across the wafer surface. Using the final-stage energy filter based on an electrostatic field, the MC3 series ensures a sufficiently strong beam current with no energy contamination even with low-energy implantation.
In addition to these excellent features of the MC3, the MC3-II features increased mechanical throughput as a result of expanding the parallel operation range in the transfer system as well as the increased beam current as a result of the optimization of the beam optical system to significantly improve productivity.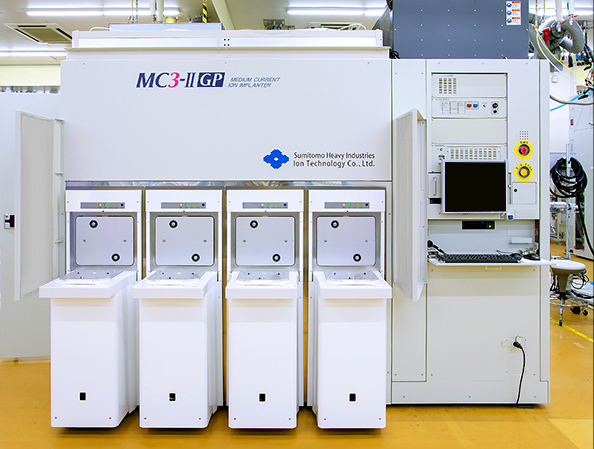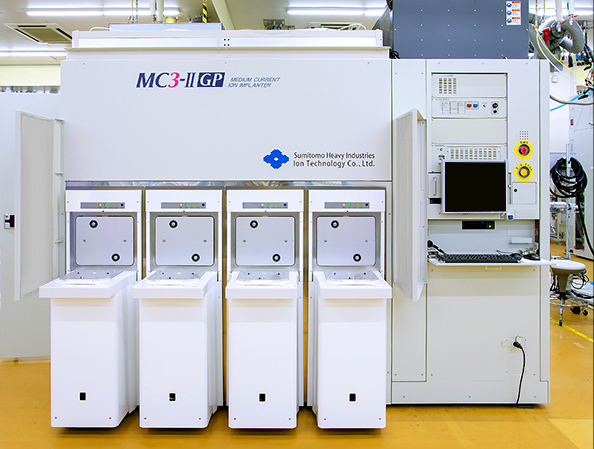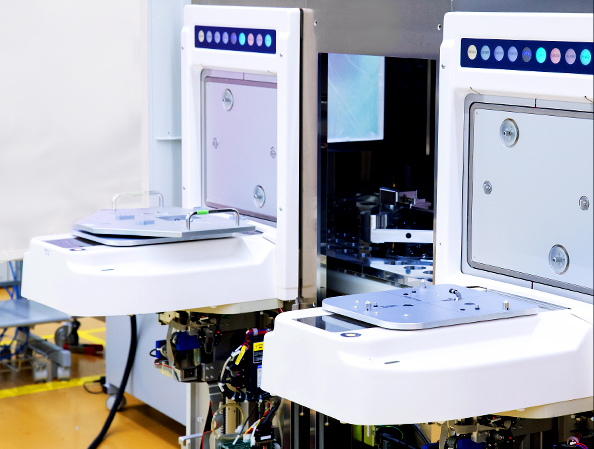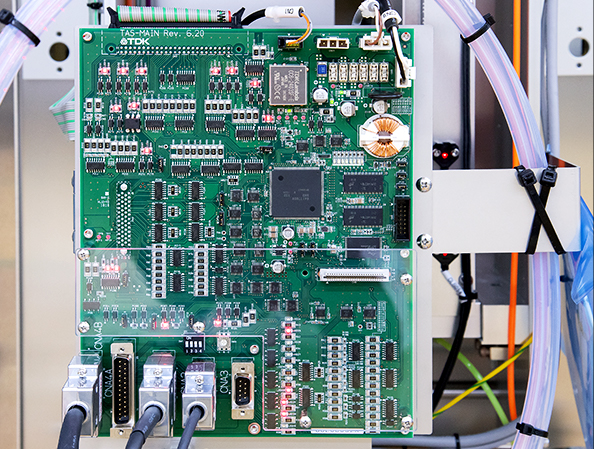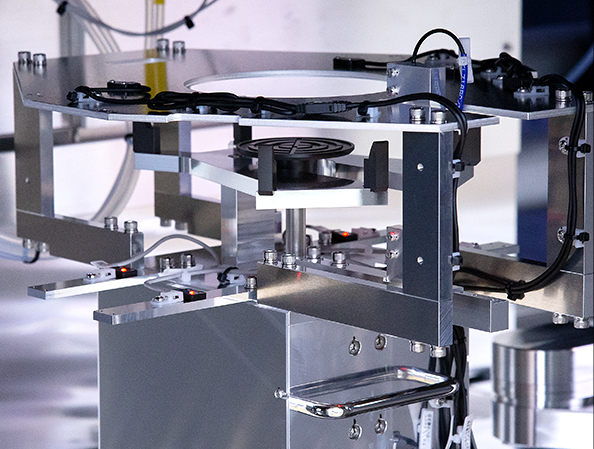 POINT
Product Features
PICK UP
Support for 200-mm and 300-mm wafers
Support for implantation energies from 3 to 960 keV
Support for heavy ion implantation
Automatic high-speed beam setup
Increased beam current in the low-energy region
Improved uniformity as a result of reducing the expansion of the beam with the speed reducer in the final stage as well as fixing the implantation location by adopting a unique scanning method
The MIND2.0 system that contributes to improved productivity and yields in the entire process by compensating for unevenness that has occurred in other processes
Increased polyvalent beams
High reliability, high maintainability
Energy saving performance
High mechanical throughput
Minimized energy contamination with the energy filter installed in the final stage
Minimized implantation angle deviation and beam shape changes using a beam line with bilateral symmetry
Minimized metal contamination